Cuffee School Winter Family Field Trip
On Wednesday, February 21, 2018, the Paul Cuffee school visited the Hill for a family field trip.  Sixty plus people walked the trails and explored the beauty of the hill.  One of the explores (Joe Welsh) recorded an awesome drone video. Click here to view video
Article excerpt from Motif Magazine by Amanda Resch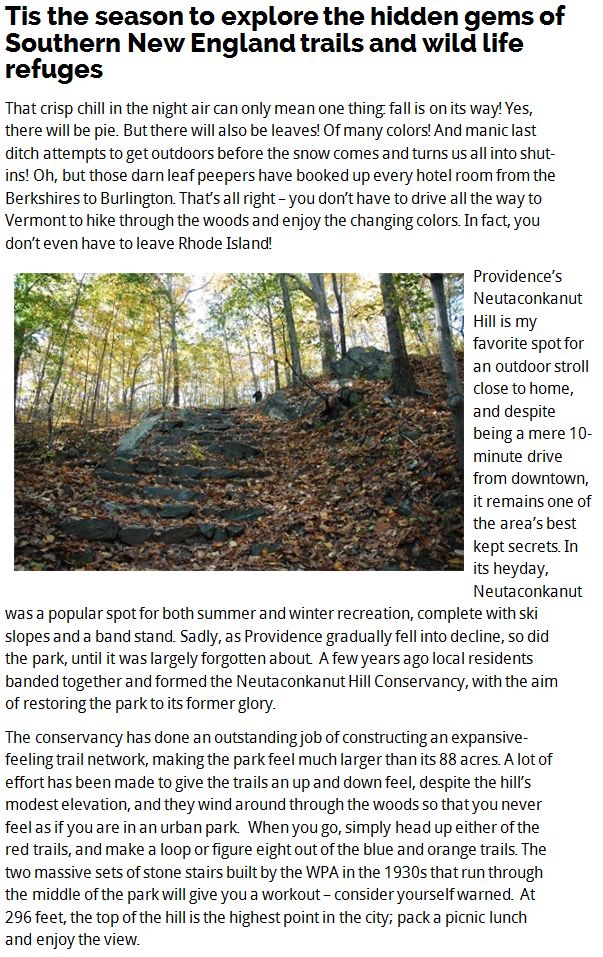 Reviving a Forest
Elli Panichas grew up near this Hill. During the Depression, in the summer, her family, with hundreds of other families, ate picnics on the Hill; they strolled through the flower gardens; they listened to band concerts at the peak. For immigrant families crowded into three-decker tenements, the Hill marked a bucolic respite. When the Works Progress Administration (WPA) opened hiking trails in the 1930s, people would saunter up.
"The Hill was the life of the neighborhood," Panichas recalls. Download full article in PDF format here
The Neutaconkanut Hill Conservancy would like to thank the Wantaknohow Garden Club of West Greenwich for their generous donation to the Conservancy. Such donations help NHC to maintain the 88-acre forested and walking trails.
                          Founded in 1938, Club maintains the gardens at a local library,                          gives an annual scholarship to an area student studying horticulture.
Exploring R.I.'s outdoor gems, open spaces during Land Trust Days
August 11, 2012 2:44 pm By Richard Salit
PROVIDENCE, R.I. — The thickly wooded forest gave way to a grassy meadow at the crest of the hill, and there a break in the trees revealed a breathtaking scene framed in branches and leaves: Providence's downtown skyline, several miles away.
"I don't know of a better view of the city than this," said Rupert Friday, director of the Rhode Island Land Trust Council. Read Full Article Here
Providence College students spruce up Neutaconkanut Hill trails
By BETH HURD, Johnston Insider Reporter
Making use of the maxim that "many hands make light work," students from Providence College spent two days of volunteering at Neutaconkanut Hill – Monday and Tuesday, Aug. 29 and 30. The 150 students, along with 25 upperclassmen who served as leaders, are participants of a college-sponsored program called Urban Action.
Neutaconkanut Hill Park, 88 acres of woodland and trails owned by the City of Providence, is on the Johnston/Providence line and was once part of Johnston. From the top of the hill, at 296 feet above sea level, one can view downtown Providence and "nearly a quarter of the state."
"They began working with the Neutaconkanut Hill Conservancy five years ago (this is the fifth year) ," said Elli Panichas of the NHC. "We realized last year that many had been with us for their whole four years at PC. For the past three years, UA has chosen our site as their only volunteer site; they love us and we love them."
The Urban Action program was started in 1991 by two PC students as a program to get students out into the community; it started out with 17 students the first year, explained team leader Tim Fleming, of Wakefield, Mass. The program is celebrating its 20th anniversary this year and is now so popular, they've had to turn students away; the school received more than 200 applications this year. "We do love Neutaconkanut Hill the most,"
Read the full article visit the Johnston Insider
Amgen Foundation gives $5,000 to conservancy

Amgen honored employee Richard Fitzpatrick, a Providence native, with the 2010 Amgen Excellence in Volunteering Award in Rhode Island. The Amgen Foundation will donate $5,000 to the Neutaconkanut Hill Conservancy, where Fitzpatrick was honored for his volunteer efforts
Download PDF or read at PBN
Students turn a neglected park into a woodlands paradise
by elli panichas
The following reflection by the president of the Neutaconkanut Hill Conservancy in Providence was written after two College community-service projects at Neutaconkanut Hill, a city park. The projects, which took place the week before Fall 2009 semester classes began, were the 19th annual Urban Action program and the inaugural "Building Bridges"
day of service. Building Bridges was one of several initiatives included in the College's revised, six-day New Student Orientation.
Urban Action entailed one large-scale project involving approximately 150 members of the Class of 2013 and 25 upperclassmen leaders. Building Bridges featured more than 1,100 members of the College community—led by the entire Class of 2013— working at 37 sites across Rhode Island, including Neutaconkanut Hill.
Read full article: Students turn a neglected park into a woodlands paradise (PDF)
---
Students 'Building Bridges' to Johnston community
In a first-of-its kind community service project, the class of 2013 at Providence College participated in "Building Bridges" in Johnston on Saturday, Sept. 5.
"It's a wonderful opportunity for incoming students – it sets a precedent from day one," said Chris Fortunado, vice president of student affairs and dean of students.
More than 1,150 members of the Providence College community, including College President Rev. Brian J. Shanley and 960 members of the incoming freshmen class, spread out to more than 30 sites around the state.
They were joined by 190 site leaders, made up of faculty, staff members and upperclassmen. The volunteers cleaned state parks, worked with Catholic parishes and assisted community agencies.
"Building Bridges" aimed to create a stronger relationship between students and their community and was mandatory as part of their orientation program.
In Johnston, more than a dozen volunteers painted the exterior of the maintenance office building, formerly the pool building, located at Johnston's Memorial Park.
Read more: Warwick Beacon – Students Building Bridges to Johnston community
_____________________________________________________
Providence's Best kept Secret!
"From the top of the ski jump you can see much of Providence. Behind you is about 88 acres of woodland, with ribbons of blazed trails through the geological and cultural history of Rhode Island…. Beyond the playgrounds, the woods on Neutaconkanut Hill are still wild, with massive rock outcroppings and erratic boulders from the glacial past. Beneath the forest canopy that includes white oak,  beech, black walnut and butternut trees, collectors have found arrowheads from Native Americans. Stone walls offer a glimpse into the land's time as a farm. A cemetery and monument in the woods document the hill's connection to the King family who once lived there." (Excerpted) Tom Meade, Providence Journal Staff Writer, Thursday, March 12, 2009
"The Indians knew about it centuries ago and made the Hill an important meeting place. In 1636 they included the hill as the northern boundary of Roger Williams' deed to Providence. … Neutaconkanut Hill…literally towers over the rest of the city. At an elevation of 253 feet the Hill is the highest point in the city. The Uplands are unique in Providence's Park System for it is a beautiful wild area of trees, field grasses and wild flowers interspersed with valleys, ravines, boulders, stone walls, natural springs and brooks and is a natural habitat for small animals and birds." Bob Wyss, Providence Journal, June 12, 1978
_________________________________
Last wild place in Providence has hiking trails across rock outcroppings
By Tom Meade Journal Staff Writer
From the top of the ski jump you can see much of Providence. Behind you is about 88 acres of woodland, with ribbons of blazed trails through the geological and cultural history of Rhode Island.
It's the last wild place in Providence, and Elli Panichas aims to keep it that way.
Neutaconkanut (nu-ta-KON-ka-nut) Park, in the Silver Lake section of Providence, once was so pristine that Panichas and her girlfriends could drink from the streams there. Today, drinking water flows through the park, but it runs through massive pipes beneath the wooded landscape.
When she was a girl, families from all over the city would wear their Sunday best to visit the meadow on Neutaconkanut Hill where there was a bandstand for weekly concerts. The grass was trimmed by a horse-drawn mower. Just beneath the meadow, winter skiers would fly off an earthen ski jump.
Today, only the foundation of the bandstand remains, and the ground is littered with shards of bottle glass, spent paint balls, and the spoils of a campsite where a homeless woman and her son had stayed for a while. At the bottom of the old ski jump are the skateboard park, swimming pool and ball fields that most of today's Providence residents know as Neutaconkanut Park.
_______________________________________________
Trail Blazers Elli Panichas of Silver Lake and Lisa Aurecchia of West Broadway Set Their Sights High on Neutaconkanut Hill
City News Feature Story
Release Date: October 26. 2006
Elli Panichas was born and raised in the Silver Lake neighborhood of Providence.  She owns the house that is seated on the apex of the City, nestled on the summit of Neutaconkanut Hill where Native Americans and Kings used to roam.  From where she lives, views of Providence are spectacular and her backyard is still a watering hole for some of nature's greatest and historic dwellers.
On the other side of the hill, Lisa Aurecchia was born in the City of Johnston but she shared the same hilltop views and fond memories that Elli had.  With a firm commitment to reviving Providence's natural resources through her work with the Woonasquatucket River Watershed Council and Citywide Green, she's since relocated to the West Broadway neighborhood.
Together with other passionate neighbors, like committed landscape architect, Mike Lusi, and Providence police officer, Robert Fitzpatrick, they set out on a unified mission:  to rehabilitate what will soon be again a magnificent gift from Mother Nature to the City of Providence in the Neutaconkanut Hill Park. Read full interview here